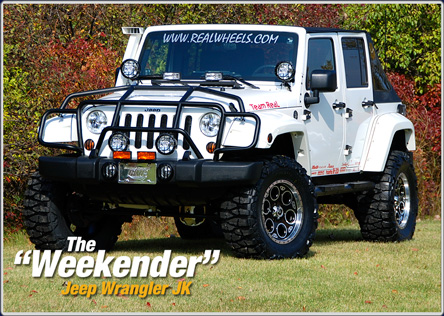 "WEEKENDER" JEEP WRANGLER JK
This 2008 Jeep Wrangler is a rolling showcase of over 30 Jeep JK enhancement accessories from the team at RealWheels Corporation. The "Weekender" project was designed to be a comfortable daily driver, with some of the best names in the business joining to make it also capable for some serious off-road fun. RealWheels relied heavily on the input from Jeep owners and various Jeep forums to create all the new product designs.
Gallery – Click images for a large view
Sponsor List
• Bestop
• Bushwacker
• Daystar
• Gibson Performance
• Hi-Lift
• Hobie Cat Company
• KC HiLites
• Mamba
• Maxxsonics
• Metalcrafters
• Motorola
• NITTO
• Pocket-Pod
• RIVER RAIDER Snorkels
• ROADWIRE
• StreetGlow
• Superlift
• Team Real
Please call RealWheels at (800) 982-1180 for Sponsor contact information.