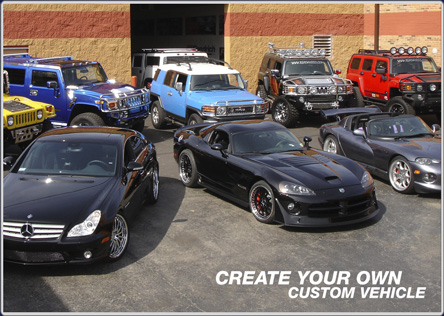 Challenge Our Development Team!
RealWheels creates one-of-a-kind custom vehicle enhancements for the owner who demands perfection. Let our award winning design team turn your dreams into a reality. From Criss Angel's Custom Viper to completely customized Hummers, we have the know-how to deliver the ultimate driving experience!
Contact us at
1-800-982-1180.
Innovative Design & Engineering Applications – "I.D.E.A."
RealWheels Corporation provides cost-effective design and engineering solutions for a wide range of industries. With our diverse and talented staff we have the added capability to perform all design, engineering, manufacturing and production responsibilities, including project management and complete product development. Utilizing our own Chicago manufacturing facility as well as our global sourcing network, the IDEA team can efficiently achieve each project's desired results.

CAD Capabilities and Prototyping

Welding, Stamping, Polishing and Secondary Operations

Precision Laser Cutting

CNC Machining Centers
Our successful history involves three decades of creative innovation using steel, stainless steel, aluminum, and plastics. Whether you already possess your own prints or need us to conceptualize, develop and design the parts from step one, RWC can give your design team the extra muscle and expertise needed to succeed.