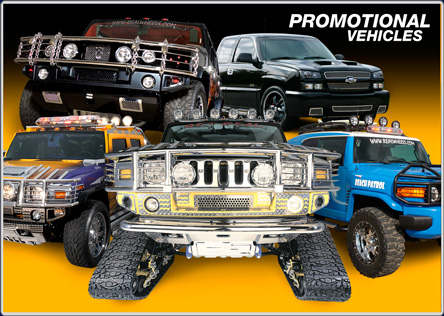 Be Part of the Next Vehicle Project!
RealWheels Corporation has developed a reputation for manufacturing some of the highest quality and attractive vehicle accessories in the business. They have also become known for using those same accessories to create some of the most outrageous, attention-getting promotional vehicles in the world, consistently attracting large crowds and significant media attention!
Some of the impressive worldwide media and industry coverage includes: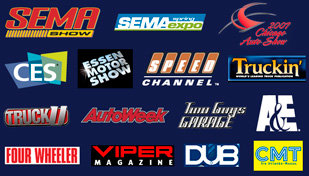 Join Forces with RWC for Increased ROI.
RealWheels have consistently demonstrated an ability to conceptualize, design, and create award-winning custom vehicles varying from mild to wild, while remaining dedicated toward the project's desired marketing goal. They thoroughly understand that a substantial Return On Investment is the most important result of any project and the promotion of each sponsor-partner is imperative. Their team is skilled in the ability to use the attraction of a custom vehicle to relay an important marketing message, theme and/or promotion, and how the combination of innovative support materials can help drive the message even further.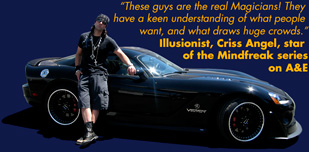 Although these vehicles are typically unveiled during specific events, RealWheels considers every unveiling as only the initial "Launch Party" for the promotion. The most successful corporate branding and rewarding opportunities come from creating a full marketing schedule throughout the following
18-24 months. The project team has worked with some of the best names in the business, and are proud that their past sponsors continue to come back, year after year to get involved with new projects.
The RealWheels Team invites you to seriously consider joining them on their next vehicle project, or one of your very own.
Partner Sponsorship
Become one of the product, service, or financial sponsors of the next project. Past sponsors have used these vehicles for product brochures, websites, promotional flyers, calendars, trade show displays, and more. In addition to the usual logo placement, and sponsor recognition, you will be included in all press kits, promotional postcards, DVDs, and vehicle signs. We encourage you to invite your clients to see the vehicle at scheduled events, and utilize our promotional videos, and additional support materials for your own marketing efforts.
Title Sponsorship
In addition to the above…You will receive equal billing with RealWheels on a custom vehicle design with your logo, products, and/or promotional message. The vehicle design and theme is tailored to the client's specific marketing goals. It is then made available for your corporate events, trade shows, and other promotional opportunities. RealWheels will also use the vehicle during shows and events like SEMA, to promote the message. (Typically there is only one Title-Sponsorship per vehicle.)
Turn Key Vehicle Program
Your brand, your logo, your message…Your Vehicle! This option is ideal for organizations that require their own promotional vehicle. The RealWheels team will work with you to develop a successful vehicle-marketing plan from start to finish. (Budgets, themes, vehicle brand, promotional schedule, etc.) We have created everything from custom golf-karts, sports cars, and even big-rig trucks, so anything is possible. If you want to bring attention to any product or message, a properly designed promotional vehicle can be the most cost effective method, with the ability to recoup much of the initial investment by making the vehicle available for sale upon completion of the promotional tour.