* Prices include shipping.
The Real Step Video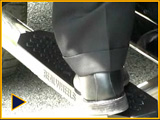 Features
Millions of 3" nerf bars already sold in the industry mean BIG opportunities for your business.
100% stainless steel construction means it will NEVER rust, peel, yellow, or corrode.
RealGrip™ is a non-slip surface makes for a wider, safer step surface.

Installs in Minutes

BEFORE: Unattractive plastic step with limited life span

INSTALLATION: Quick and secure. No Drilling.

AFTER: Stainless construction provides a lifetime of good looks.
Testimonials
Silvio Cabrera,
Dallas, Georgia
All you need is a screwdriver, tape measure, small level and about 45 minutes of your time. I used the tape measure to make sure both sides were even and that I had the right amount of space between the steps.
This is a simple install and it upgrades the look of your truck. I always wanted to get rid of the black steps on my truck. If you look in my gallery, my truck has the look for these steps. They're not for everyone, because they may not go with the style of your truck.
They're well made and have a beautiful stainless finish. You won't slip, because every few diamonds on the finish have a protruding tiny rough circle. They can handle me jumping up and down on them, so they are there to stay.
I'd recommend them to anyone. They finished up my truck real well!