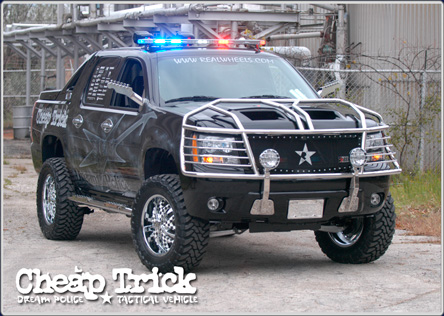 CHEAP TRICK
"DREAM POLICE" CHEVY AVALANCHE
For SEMA 2008, RealWheels has created a Rock-music themed vehicle with the help of one of America's legendary rock bands, Cheap Trick. The vehicle will be a tribute to the band's 30th Anniversary of their Dream Police album, complete with a light and music show that emerges from the rear of the vehicle. It's going to Rock!
Cheap Trick Concert – Hemmen's Cultural Center in Elgin, IL
RWC Project team members, Jhan Dolphin & Ron Tushner braved the single-digit temperatures on Friday night Dec. 12th to join Rockers, Cheap Trick at the Hemmen's Cultural Center in Elgin, IL. The "Dream Police" vehicle greeted the Sold-Out crowd as they arrived at the concert. Jhan & Ron later joined the band backstage, for an awesome view of the concert. During the concert, Rick Nielsen acknowledged the vehicle project and introduced REALWHEELS to the crowd. Thanks guys… You Rock!
Events Gallery – "Dream Police" Avalanche on Tour
Gallery – Click images for a large view
Sponsor List
• BASF
• CORSA Performance
• Custom Painted Vehicles
• Farenheit USA
• Go Light
• Grant Products
• GWG
• Hamer USA
• Katzkin Leather
• KC HiLites
• Keystone Restyling
• Maxxsonics USA
• Monster Cable
• Motorola
• MTV Games
• Odyssey
• ProCharger
• Pro-Mark
• RBP Rollin Big Power
• Sir Michaels
• SLP Performance Parts
• Southern Comfort Conversions
• StreetGlow
• Superlift
• SVL Rockford
• Tomar Electronics
• Toyo – Performance Tires